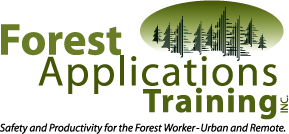 ---
What is Forest Applications?
Our Mission: To provide our customers and associates a great learning experience with integrity and passion that will enable safety and productivity in their personal and professional lives.
In the worlds of forestry and arboriculture the chain saw is an important and useful tool. Since the late 1920's the chain saw has produced momentous advances in sustaining, repairing and harvesting trees. It is also used intensively during storm cleanup and utility installations. Most people will use a chain saw at some time in their life for some wood cutting task. The catch… the chain saw without proper instruction can be lethal. As with many other portable power tools, training, safety and use instructions are critical to making your use of the chainsaw an enjoyable experience.